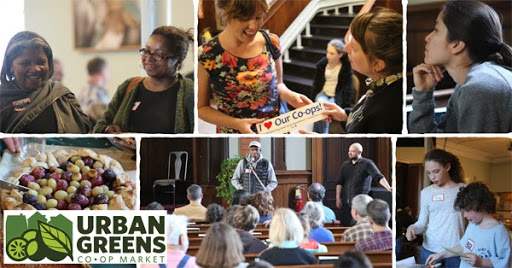 Member-Owner Meeting, August 2!
Please Join Us For Our Virtual Annual Member-Owner Meeting & Online Voting!
Date: Sunday, August 2
Time: 5:30-7:30pm
Where: In the CLOUD! (Zoom link here)
To Vote: Voting online with details below.
Agenda 2020 Annual Member Owner Mtg
Urban Greens had its 1 year anniversary just a few weeks ago, and what a year it's been! From our grand opening last June and early staff transitions to the pandemic we've been experiencing for the past 4 months, this has been an eventful year. Urban Greens has not simply survived, but has stepped up to create a safe and welcoming shopping space for the community, while also supporting countless families in need. The annual meeting will provide a look back at the preceding year, updates on where we're at, and a discussion of what's ahead.
This year's owner meeting will of course be a little different from past years: because of the pandemic, the meeting will be held virtually. And while we will miss seeing everyone in person (and sampling Pie-Contest pies!) it's critical to do what is safe while maintaining our reporting responsibility to our owners. Detailed logistics of the meeting are included below, including how to join the meeting and how to vote in the election.
Additionally, since we can't hold our traditional soup potluck, the co-op will be featuring a recipe (the ingredients to prepare it yourself, or a ready-to-eat version!) so that we can still "share a meal together" during our annual meeting!
Logistics:
We will be using a webinar format as a forum to provide information and report out to the co-op's owners. Just click this link to join the webinar. As part of making sure that we're able to thoughtfully review owner feedback and answer owner questions, we're also soliciting questions in advance of the meeting! Please email your questions to ugcouncil@urbangreens.com. We will also be able to take questions in some format during the Q&A portion of the meeting, but it will be much easier to respond to questions that are sent in advance, so we encourage you to send along any questions you may have now.
Owners, non-owners, and future owners are all welcome to attend!
Whether you are able to attend the meeting or not, please vote online in advance! This is critical to helping ensure that we have a quorum and can complete our election process.
To vote online, you will receive an email with a direct link for voting next week. Each email is linked to the member-owner's email to ensure secure voting. (One vote per member-ownership share.) Once you've received the email, just follow the instructions!
You'll be able to read about the full details of the election below, as well as via the voting software before you actually vote.
Voting Initiatives:
At the core of a cooperative organization's democratic structure is the voting process, and the accountability to ownership that it brings. The Annual Member-Owner Meeting facilitates space for member-owners to exercise this right and responsibility. Through voting, owners help make important decisions that dictate the direction of the Co-op, and select candidates from among their fellow owners to represent them on the Co-op's governing board.
This year, we will be voting to elect new members to the board, and for the first time, we are conducting a competitive election for board seats: the board has nominated 10 candidates for consideration by the owners, to fill 7 open board seats. Competitive elections are a powerful way to ensure the board remains accountable to member-owners by putting the final decision in the owners' hands.
The board was extremely impressed with all 10 candidates nominated. Candidate names are listed below, followed by a statement and photo for each nominee. Each owner may vote for up to 7 candidates:
Seney Chang
Francesca Gallo
Zaida Hernandez
Heather Jackson
Sophia Mackenzie
Jennie Msall
Julius Searight
Sarah Turkus
Christian Vialva
Janet Villanueva-Williams
Candidates for the Board:
Seney Chang, she/her/hers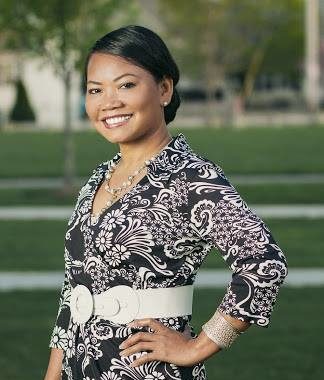 In summer 1985, Seney Chang traveled one hour and a half from Western Massachusetts to Providence to stock up Southeast Asian food. During that time, Providence was the Hub of Southeast Asian refugees, especially Cambodian, where they established businesses and grocery stores along Cranston Street and Elmwood Avenue. On this first trip, she met her future husband at the Armory District neighborhood. Five years later, the couple moved to Providence.
Seney has significant experience in for-profit, nonprofit and governmental work; most recently, she works at the Providence Public School District and the CCRI Foundation. Previously, she was a research assistant for the Providence City Council, where she served for more than a decade. Before that, Seney was a Neighborhood Health Plan of Rhode Island marketing and community relations representative. She earned her bachelor's degree at College Unbound under Charter Oak State College, where she studied community development, focus on food sustainability. She has previously served on the board of College Unbound, Cambodian Society of RI, and Center for Southeast Asians.
Born in the family that once owned retail businesses, rice and orange farming in Cambodia, Seney joined Urban Greens as one of the founding members in 2012, and has volunteered in various outreach efforts made her feel closer to home. Seney resides at North End with her two sons, and she shops twice a week at Urban Greens. Best described by her friend that she's "resourceful" and knows how to get things done.
Francesca Gallo she/her/hers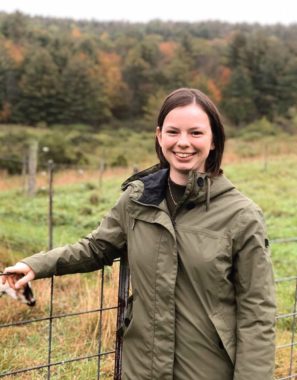 Francesca has lived in Providence for three years. She graduated from Brown University '19 with a degree in Urban Studies after beginning her undergrad at NYU Gallatin. In her work, Francesca is committed to leveraging community-based initiatives to affect equitable, sustainable, systemic social change. This commitment encompasses her dedication to food systems transformation. Francesca has experience in the fields of food systems, social entrepreneurship, community development, design and the arts, education, and animal welfare.
Program coordination is Francesca's area of expertise, developed through work with the Providence Animal Rescue League, Doors Open RI, and the Downtown Providence Parks Conservancy. Francesca has also worked with Farm Fresh RI's Harvest Kitchen, the African Alliance of Rhode Island, Stock Culinary Goods, and Edible Rhody.
Francesca's theory of change in food systems aligns strongly with Urban Greens' objective of centering Providence's diverse communities in its mission and operations. As a board member, Francesca would contribute to the Owner Engagement, and/or Anti-Racism, Equity, and Inclusion committees, helping the co-op champion local communities who are disproportionately burdened by food insecurity. Francesca brings to UG a focus on dismantling the cultural, financial, and logistical barriers that restrict equitable access to nourishing food, especially through anti-racist organizational development and the implementation of culturally relevant public programs/events.
In her free time, Francesca is a first-year gardener at the MLK Community Garden in Providence. She is also an interdisciplinary dancer and choreographer whose practice centers the creative process, improvisatory movement research, and the application of dance as a healing and adaptive art form.
Zaida Hernandez she/her/hers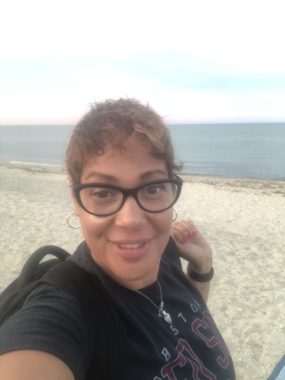 Zaida Hernandez has lived mostly in Providence since the age of thirteen. She has spent her career working in the nonprofit field, acquiring her Masters Degree in nonprofit management at age of 45, which was a challenge and an achievement she's very proud of. She presently works at a local clinic as a Behavioral Health Coordinator.
Zaida's love for healthy food in vulnerable communities became her passion when she herself became ill from unhealthy eating. Since then she has worked for Farm Fresh at the Broad Street Market educating children on healthy foods, participated in community gardens, volunteered for Urban Greens, and presently volunteers weekly at a farm. She believes that access to healthy affordable food for everyone is a human right.
Zaida is also active with the RI Coalition Against Domestic Violence, and is on the advisory board for the National Coalition Against Domestic Violence. Her skills and knowledge from over 20 years in the nonprofit field have given her a plethora of experiences with people from different backgrounds and cultures, and her strengths are in organizing, outreach, translating, and her passion for people. She is running for the UG board to bring diversity, be a voice for the Latino community and other vulnerable communities in Providence, and to help ensure that sustainable healthy food is available in urban communities in RI.
Zaida shares her life with her pets. Geppetto the very sensitive cat and Bella her very "can't be bothered with anyone" dog. She loves exercise and good food, especially when someone else cooks it!
Heather Jackson she/her/hers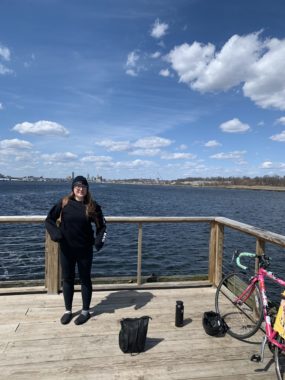 Heather currently lives on the south side of Providence. She has lived in Providence for 5.5 years. Heather is from North Dakota and lived in various cities there, including one city that had a long-standing grocery co-op. She also lived in Minneapolis at some point and was involved with a grocery co-op there (Minneapolis also has several grocery co-ops and a worker's co-op cafe!).
Heather is a mental health therapist who works mostly with high-risk populations with trauma. She often integrates healthy habits into her work and often tells clients about Urban Greens! She has worked for and volunteered at many agencies in Rhode Island that involve facilitating healthier children, adolescents, families, and communities. She was the food coordinator at RIOT (formerly Girls Rock RI) for many years and facilitated workshops on healthy relationships and communication.
She has excellent communication, networking skills, and experience. She loves cooperatives and would bring that love forth to the UG Board. Heather has experience with surveys, research, organizing events, educating people on various social issues, and learning/unlearning.
Heather would love to be on the Board for many reasons. She learned about Urban Greens by googling grocery co-ops in RI before moving. Heather joined as soon as she could and exclusively shops there. She would love to be part of the co-op in a meaningful, changing way, and work with others!
Heather was a teen mom and is a single mom! Her daughter just graduated this year from Classical. Heather loves to bike ride, hang with her rabbits, and make zines.
Sophia Mackenzie she/her/hers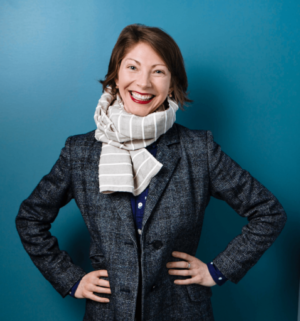 Sophia lives in North Providence with her husband, dog, and growing plant family. Originally from the west coast, Sophia has lived in Rhode Island for four years.
Sophia has worked in nonprofit arts administration and fundraising for a decade; she is currently the director of development at New Urban Arts, a community art studio for high school youth and emerging artists, located in the West End on Westminster St.
In addition to experience in fundraising, project management, and program and organizational development, she has spent a significant amount of time working with boards to achieve fundraising goals, plan events, and support strategic initiatives. Sophia is empathetic and curious. She is a thoughtful communicator who is willing to accept criticism and have difficult conversations.
Sophia has been an enthusiastic supporter of food co-ops for a number of years. Over the last ten years, she has shopped in food co-ops across the country, from Oregon to Maine. She believes that food co-ops are important for thriving communities—providing a safe and welcoming hub for groceries, gathering, and education. Sophia believes that everyone should have access to good food, regardless of the neighborhoods in which we live, the colors of our skin, or the socio economic statuses under which we fall. Sophia is eager to advance Urban Greens' mission to make access to food more just and equitable.
Sophia enjoys traveling, spending time outside, writing, sewing, snuggling with her dog, and bargain hunting for second-hand objects, clothing, and furniture.
Jennie Msall she/her/hers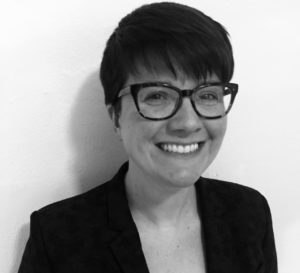 Jennie has lived in the Federal Hill neighborhood of Providence since 2018, when she moved to Providence after a decade in Massachusetts. She became interested in cooperative business models as a founding board member of the Dorchester Food Coop, an initiative to start a community owned grocery store in Boston. Jennie has also worked as a farm advocate at Farm Aid, providing technical assistance to farmers navigating financial challenges and weather-related disasters. She also previously worked as a supply chain coordinator at Equal Exchange's fair trade banana company.
Jennie currently works as a business consultant at a cooperative development organization, ICA Group, where she supports business owners in transitioning their businesses to employee ownership. In this role, she provides financial analysis and technical assistance to build financially sustainable cooperatives that provide lasting benefits for workers and communities. Jennie is excited about the opportunity to bring her passion for cooperatives and food systems change to the Urban Greens Board. Since she works remotely, she is also eager to be more involved in the neighborhood and build community with Urban Greens members. In her free time, Jennie likes to cook, ride her bike, and make art.
Julius Searight he/him/his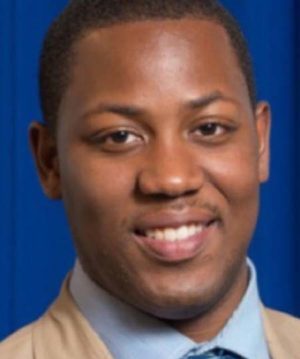 Julius Searight lives in Providence. Julius currently works as an on call chef with Crossroads RI, and as the manager of the Sankofa Market, a farmers market in Providence's Elmwood neighborhood featuring local vendors offering culturally relevant produce and goods to the residents of South Providence. Grassroots Community Organizing and Grassroots organizing and hunger relief is work that Julius has been doing for many years here in the Providence community with many different organizations, including volunteering as a teenager at the South Providence Neighborhood Ministries food pantry and after-school programs, and working for the Youth 4 Change Alliance of Rhode Island. Most recently, Julius has served on the board of West Elmwood Housing for 5 years. Prior to his current positions, Julius also founded and managed Food4Good, a food truck that served as a mobile soup kitchen and socially-conscious food truck, with all proceeds from food truck sales going to support the mobile soup kitchen. (Julius was also able to bring the Food4Good truck to the Urban Greens Groundbreaking to provide snacks for everyone at the event!)
Julius is a local chef fighting to end hunger in his own community one plate at a time. He believes that everybody should have access to healthy and affordable food, and would be excited to join the Urban Greens board to support this goal.
Sarah Turkus she/her/hers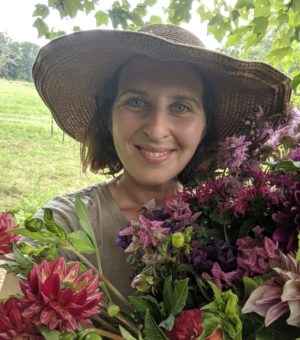 Sarah Turkus is the farmer and director of Osamequin Farm, a cooperative farm and educational community space in Seekonk MA. She also co-organizes the Young Farmer Network, which has been bringing young and beginning farmers together for collaboration and education in RI for a decade, under her guidance since 2014. She's been a farmer since moving up to Maine with a car load of tomato plants the day after she graduated from college, where she majored in religion and wrote her thesis on food ethics and issues within the sustainable food movement.
Sarah cares deeply about food, how it affects our bodies, the bodies of the people who grow and prepare the food, the systems of oppression that limit and shape our food system. She has centered her adult life around building meaningful community: at her previous farm, Sidewalk Ends, through her work organizing YFN, and now at Osamequin Farm, a project which she envisioned and then brought to fruition. The particular strengths Sarah would bring to the Board are her meticulous attention to detail, written communication skills, big picture visioning, her commitment to efficiency, and her connections to the food and farming community. She lived in Providence for seven years before crossing the border to move onto her farm in MA.
Christian Vialva he/him/his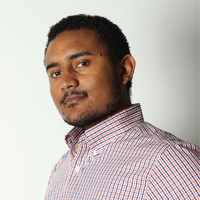 Christian currently serves as the Associate Brand Manager for HealthSource RI, where he works to ensure that all Rhode Islanders are aware of and have access to high-quality, low or no cost health coverage through digital marketing tactics. Prior to this, Christian has served in marketing and communications roles for non-profit organizations, start-up companies, and larger corporations.
Through his work experience, Christian has gained strong skills in crafting compelling and engaging content for distribution across digital channels as a means to increase awareness and drive customers to take desired actions. Christian has also gained experience in event planning, using digital analytics to drive marketing decisions, and building and managing communities through social media marketing and intends to bring this wealth of experiential knowledge and skills to his role on the board.
By joining the board, Christian hopes to advance Urban Greens' mission of offering access to healthy and affordable locally-sourced food to communities in the surrounding area who may not have had access to that in the past. He wants to be a board member to reflect, serve, and support Urban Greens' customers and owners who identify as part of a marginalized community.
Christian emigrated to the U.S. in the early 2000s and has called Rhode Island home since. He has been living in the West End for the past 5 years. Christian enjoys cooking, watching British panel shows, and has recently started studying Korean.
Janet Villanueva-Williams she/her/hers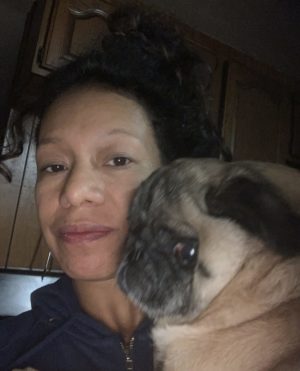 Janet Villanueva-Williams is a life-long Rhode Islander who thrives in a collaborative work environment. Her goal in life is to expend positive energy onto others and to make a difference so our friends and neighbors have a chance to have a great life. She is committed to her work as a city high school principal and is always eager to learn. Janet is grateful for all experiences and wants to do whatever she can to help Providence be safe, strong, and healthy.
Janet is currently in her 12th year as principal of a local high school called The Met. At The Met, Janet has worked with disenfranchised youth and families and is skilled with establishing great working relationships. She has championed her school community of learners and leaders to obtain incredible opportunities in and out of school.
Janet wants to be on the board to help the community be stronger, healthier, and loved. Food is essential and knowledge is power. Janet is most excited about marketing Urban Greens to the Latinx community, and helping Latinx families be more health conscious is her primary goal.
Janet currently lives at 372 Carpenter Street on the Federal Hill and West End line. She has a pug named Sophie and a cat named Freddie. Along with her family, she enjoys taking many walks throughout the neighborhood. You may also find her running around Dexter Street Park.
Recent Posts
Corey Auger
Are you interested in getting involved? Urban Greens is seeking new board candidates to nominate for election at this year's annual owner meeting on August 9th from 6:30-7:30pm! Joining the board is a great way [...]
Philip Trevvett
Member-Owner Meeting, May 2nd! Please Join Us For Our Virtual Annual Member-Owner Meeting & Online Voting!   When: Monday, May 2nd Time: 6:30-7:30 PM Where: On Zoom. Register here to receive a link to the [...]
Barbra
Are you interested in getting involved? Urban Greens is seeking new board candidates to nominate for election at this year's annual owner meeting (virtual details tbd)! Joining the board is a great way to be [...]