The Cooperative Council, also known as the Board, is the democratically elected governing body of Urban Greens Co-op Market. Each of the following board members owns one membership interest in the Co-op. Each of them is a volunteer and is not paid for their time working with the Co-op.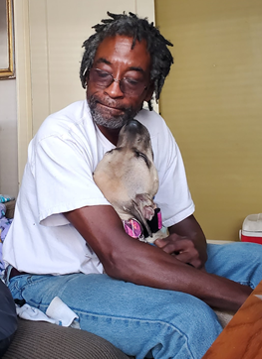 Leon Clark
Leon has lived in the Reservoir triangle area of Providence for the last 3 years with his wife, Erin, and prior to that they lived in Elmwood for about 8 years. Leon has owned and operated a small landscaping business for the last ten years and has also worked in customer service. He is also very involved in the Providence community, and as an empty nester, is always looking to advocate for his community with his wife. Leon has been a 3x elected president of the Parent Advisory council for the Providence school board and is the Community Liaison for Faith Community Church in Providence. As someone who has always enjoyed helping others and building community, Leon also enjoys running a PRIDE in Providence group and cable access show called Urban Greens.
Leon has previously worked with the General Manager to promote Urban Greens on his cable access show, and he loves attending Fish and Chip Fridays at the store. Leon is interested in serving on the board to promote the mission of Urban Greens and ensure his community has access to healthy foods and nutrition. He also wants to ensure people of color are represented in Urban Greens and that Urban Greens' mission serves people of color.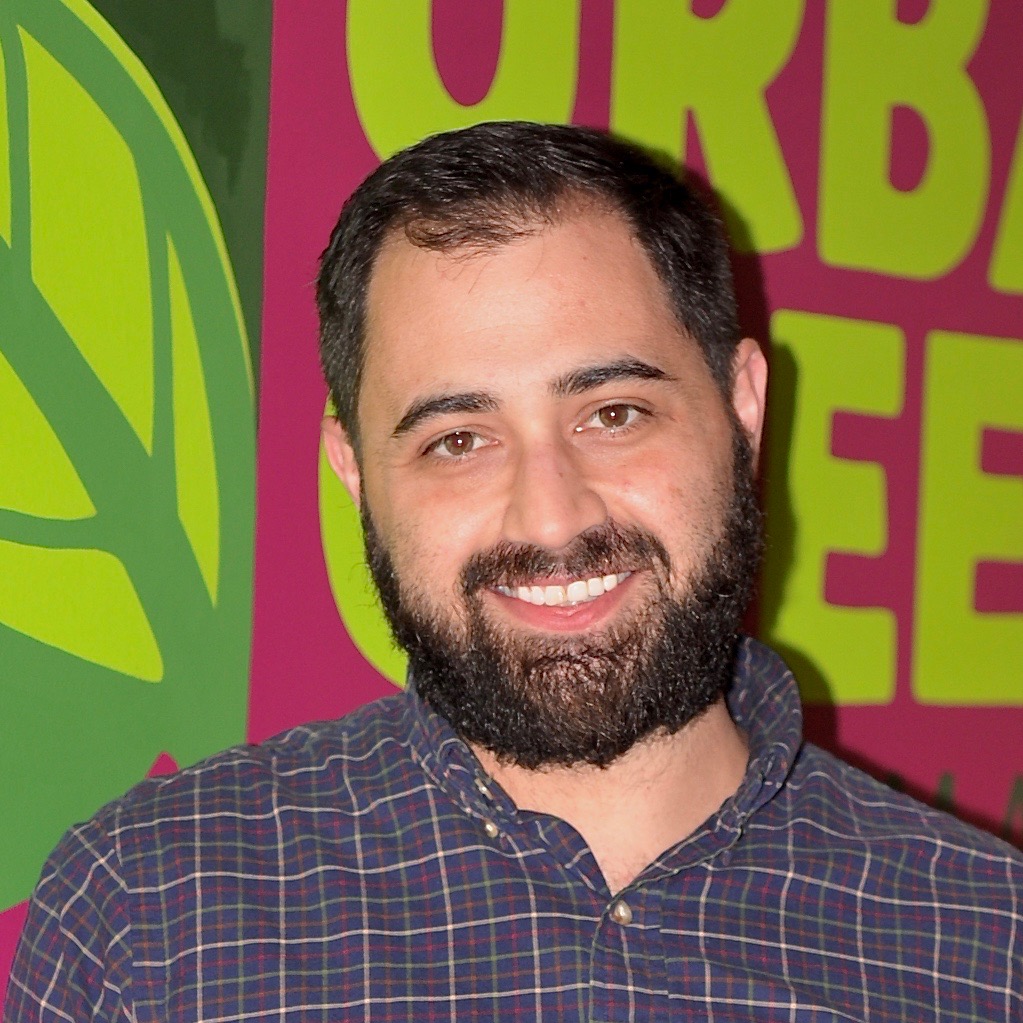 Gian Facenda (Treasurer)
Gian is a lifelong Rhode Islander, who left (for a few years) to attend school in Philly for Food Marketing, but now has lived in the Rumford area of East Providence for the last 11 years with his Wife, Lauren + new son, Giacomo. When not in the kitchen working on his sourdough baking skills, he enjoys Kayaking, going to the beach, & Bike Rides along the East Bay Bike Path.
Gian has been on the board since June 2019, and currently serves as the Treasurer. He has spent the majority of his career in the food industry working for the largest distributor of Natural + Organic Foods in the US and recently switched over to a role in strategy consulting for the Food Industry. He specializes in Category Management, merchandising, and analytics & hopes to continue bringing those skills to the Urban Greens Board.
Gian wants to continue his time on the board to help ensure Urban Greens stays on its current growth trajectory & work to make Urban Greens a shining example of what a Food Co-op can & should be for the community they're part of.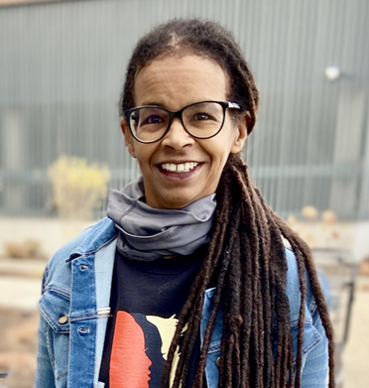 Jena Gaines
I am from Newport, Rhode Island and always considered it my home. I majored in anthropology at Mount Holyoke College and Bridgewater State College (now University) in Massachusetts, then completed a PhD in modern European history at the University of Virginia. After teaching at Mount Holyoke College and then at Western Michigan University I moved back to Rhode Island, and now live on Providence's West Side. I now work as an academic editor and proofreader, mostly for international graduate students and faculty.
When I moved to Providence, I soon started volunteering with Fertile Underground Grocery, where I became interested in community-supported agriculture, community gardening and the need for healthy and affordable food in Providence. I volunteered with Urban Greens for several years before joining the board and serving a term as vice chair.
I am most interested in governance issues, the role of the board in supporting the store, and in raising the profile of Urban Greens and co-ops generally. In addition to taking care of three special needs pets, I volunteer with Waterfire and the Green Energy Consumers Alliance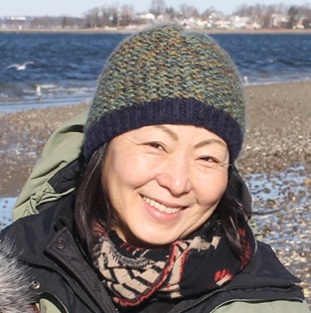 Lisa Hiwasaki
My two children and I moved to Providence a little over a year ago, after living in Ottawa (Canada), Hanoi (Viet Nam), Jakarta (Indonesia), and Paris (France). Before taking on my job teaching sustainable development at URI, I worked for various research and international organizations working on challenges related to environment and development. I was involved with research on sustainable food systems in Viet Nam, where I experienced the importance food sovereignty in addition to food security. I was thus really excited to find Urban Greens in Providence!
I'm hoping that my project management and fund-raising skills, and experience conducting research with vulnerable communities around the world, will be useful to the Board and help Urban Greens' mission to offer sustainable, affordable, culturally-relevant and locally-sourced food. I'm most interested in engaging with the Board and members to increase community outreach and promote justice, equity, diversity & inclusion in both staff and sourcing.
My kids and I speak English, French, and Japanese (albeit there are differences in fluency!) and love exploring nature trails and ice cream shops in RI and MA. I make my own kombucha and apple cider, and grow my own sprouts & herbs (with varying levels of success). Integrity and respect for diversity are key values which I promote through my research, teaching and in my personal life.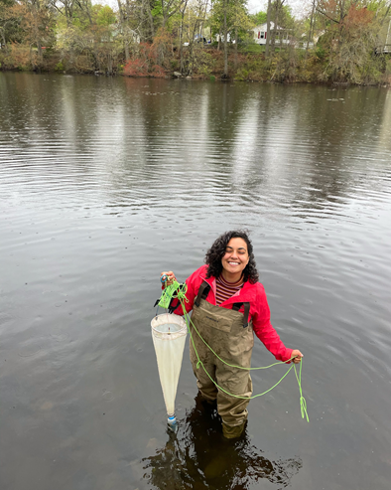 Elizabeth Malloy
Elizabeth is a resident of Elmwood and has lived in the surrounding neighborhoods of Urban Greens for the past five years. She is currently working as a Program Coordinator with Movement Education Outdoors, overseeing the West End Raices youth garden, and as the Coordinator of the Young Farmer Network of Southeastern New England. She is also a steering committee member of the PVD tree plans.
Elizabeth has been lucky enough to hold a variety of experiences working within community-focused environmental and food justice realms through sharing stories, building systems, and creating programming. She is excited to further serve the community through this opportunity to join the Urban Greens board.
Elizabeth has a cat named Rutabaga who will only respond to "Handsome Boy" if called, and she goes absolutely bonkers for frogs.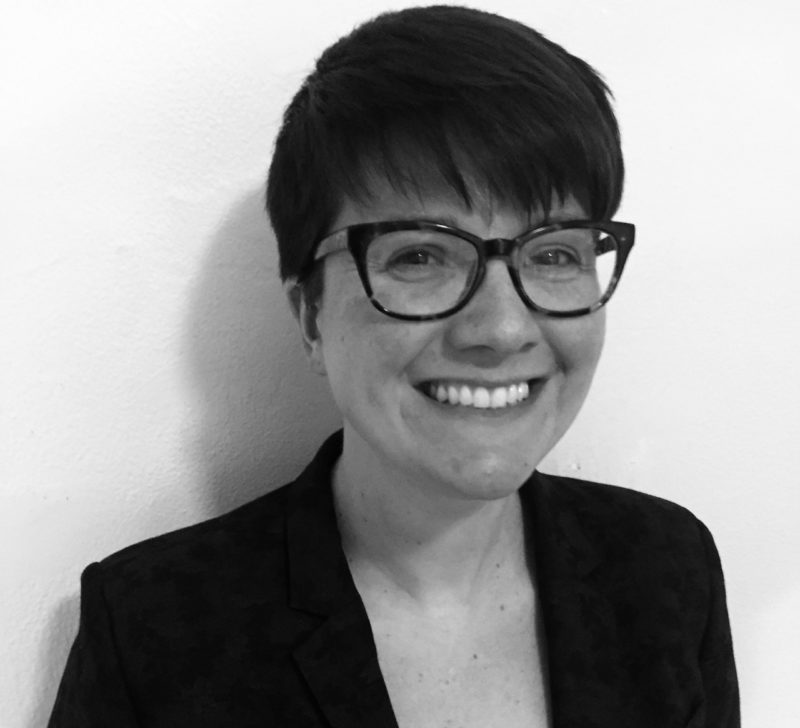 Jennie Msall (Chair)
Jennie has lived in the Federal Hill neighborhood of Providence since 2018, when she moved to Providence after a decade in Massachusetts. She became interested in cooperative business models as a founding board member of the Dorchester Food Coop, an initiative to start a community owned grocery store in Boston. Jennie has also worked as a farm advocate at Farm Aid, providing technical assistance to farmers navigating financial challenges and weather-related disasters. She also previously worked as a supply chain coordinator at Equal Exchange's fair trade banana company.
Jennie currently works as a business consultant at a cooperative development organization, ICA Group, where she supports business owners in transitioning their businesses to employee ownership. In this role, she provides financial analysis and technical assistance to build financially sustainable cooperatives that provide lasting benefits for workers and communities. Jennie is excited about the opportunity to bring her passion for cooperatives and food systems change to the Urban Greens Board. Since she works remotely, she is also eager to be more involved in the neighborhood and build community with Urban Greens members. In her free time, Jennie likes to cook, ride her bike, and make art.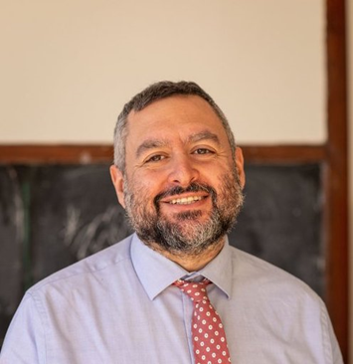 Sam Saltz
Sam moved from New York City to Providence seven years ago and immediately fell in love with the West End. So much so that he convinced his now-wife, Jenny, and parents, Carole and Steve, to leave NYC and join him here. In addition to making his home here, Sam also teaches middle school in the West End neighborhood and finds a great deal of meaning in rooting his work within the context of his chosen community.
Before his recent return to teaching, Sam worked for the Providence Public School District and the State of Rhode Island Departments of Education and Human Services where his work focused primarily on system improvement, community-based decision-making, community-led budgeting, program design and evaluation, and grant management and oversight. He looks forward to leveraging his passion for cooperative ownership and governance  and background in project management, community empowerment, and board relations in service of Urban Green's member-owners and shoppers.
Prior to his work in education, Sam was the director of marketing for a successful start-up, a field organizer for a successful presidential campaign, and an Emmy-nominated comedy writer.  He still thinks he's pretty funny.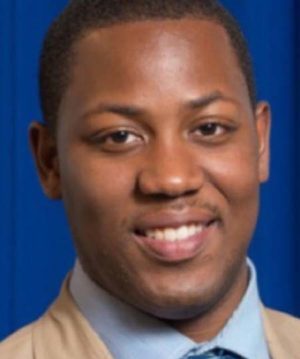 Julius Searight
Julius is a local chef fighting to end hunger in his own community one plate at a time. He believes that everybody should have access to healthy and affordable food, and is excited to join the Urban Greens board to support this goal. Julius lives in Providence and currently works as an on call chef with Crossroads RI, and as the manager of the Sankofa Market, a farmers market in Providence's Elmwood neighborhood featuring local vendors offering culturally relevant produce and goods to the residents of South Providence. Grassroots Community Organizing and Grassroots organizing and hunger relief is work that he has been doing for many years here in the Providence community with many different organizations, including volunteering as a teenager at the South Providence Neighborhood Ministries food pantry and after-school programs, and working for the Youth 4 Change Alliance of Rhode Island. Most recently, Julius served on the board of West Elmwood Housing for 5 years. Prior to his current positions, Julius also founded and managed Food4Good, a food truck that served as a mobile soup kitchen and socially-conscious food truck, with all proceeds from food truck sales going to support the mobile soup kitchen.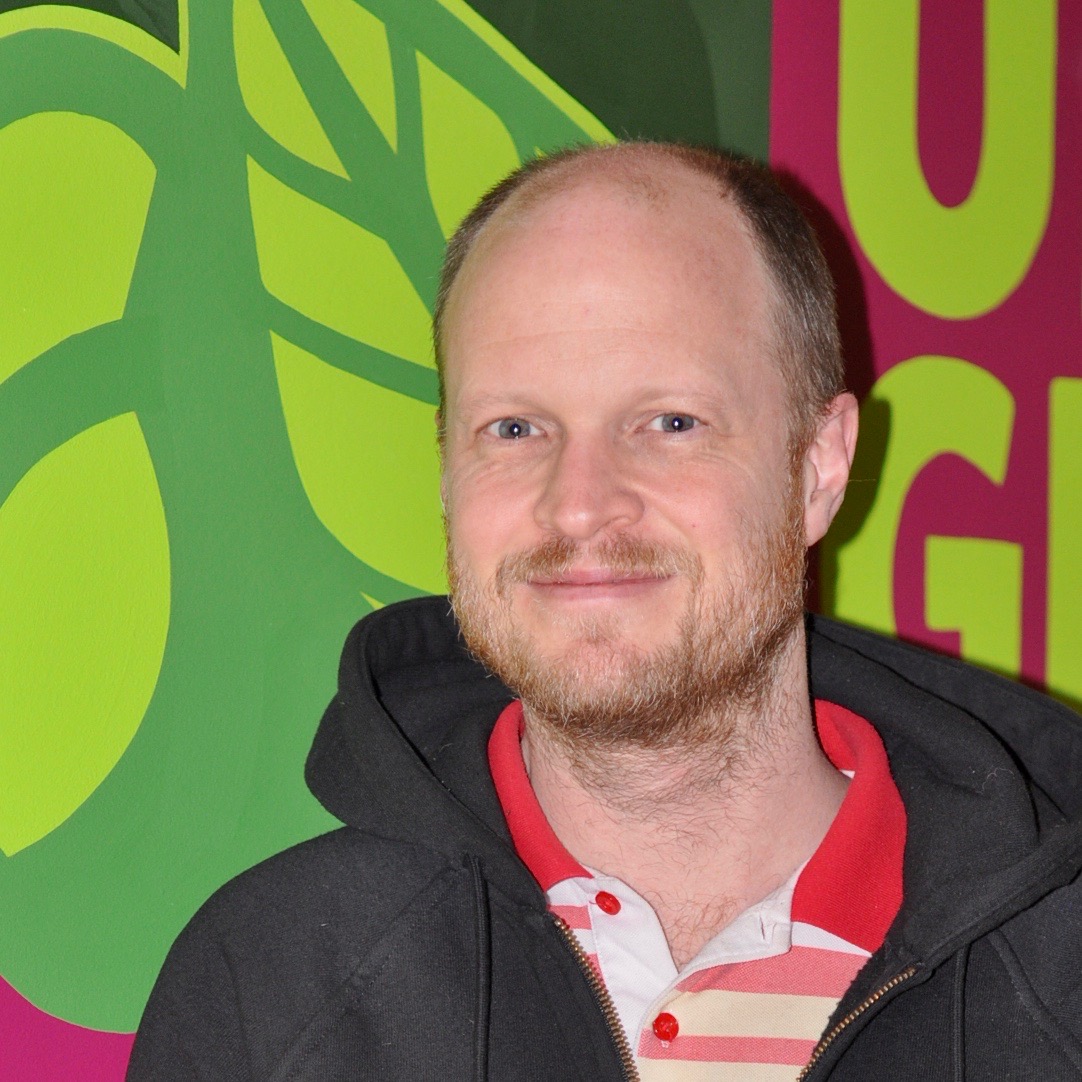 Philip Trevvett (Assistant to the Chair)
After living in Washington Park, the West End, Olneyville, Smith Hill and College Hill over the past 20 years, Philip now lives in the Elmwood neighborhood of Providence. He works at Harvard Medical School in Harvard Catalyst's informatics department. This work has helped him develop strong project management and team building skills that have been extremely useful during his time on the Urban Greens board. He has also volunteered over the years with a number of agricultural and local food system businesses and nonprofits.
Philip has served on the Urban Greens Board for nearly ten years, and served 2 years as chair. He was one of the core board members involved in getting the co-op open: leading the effort to successfully raise over $1million in startup capital, as well as spearheading community outreach and member drive efforts prior to the store's opening. Since the co-op opened in 2019, Philip has focused on the board's internal development through both recruitment and internal governance training, as well as developing management structures for the relationship between the Board and the General Manager. Philip is excited to support the development of current board members and help ensure the long term stability of the co-op.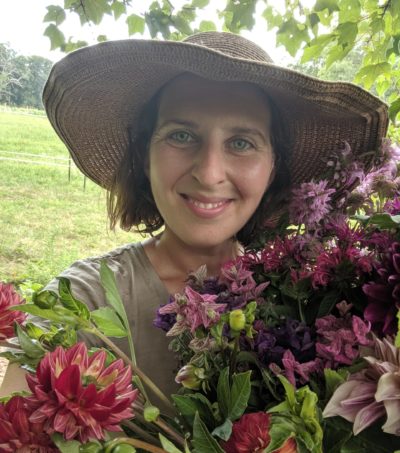 Sarah Turkus (Secretary)
Sarah is the farmer and director of Osamequin Farm, a cooperative farm and educational community space in Seekonk MA. She also co-organizes the Young Farmer Network, which has been bringing young and beginning farmers together for collaboration and education in RI for a decade, under her guidance since 2014. She's been a farmer since moving up to Maine with a car load of tomato plants the day after she graduated from college, where she majored in religion and wrote her thesis on food ethics and issues within the sustainable food movement.
Sarah cares deeply about food, how it affects our bodies, the bodies of the people who grow and prepare the food, the systems of oppression that limit and shape our food system. She has centered her adult life around building meaningful community: at her previous farm, Sidewalk Ends, through her work organizing YFN, and now at Osamequin Farm, a project which she envisioned and then brought to fruition. The particular strengths Sarah would bring to the Board are her meticulous attention to detail, written communication skills, big picture visioning, her commitment to efficiency, and her connections to the food and farming community. She lived in Providence for seven years before crossing the border to move onto her farm in MA.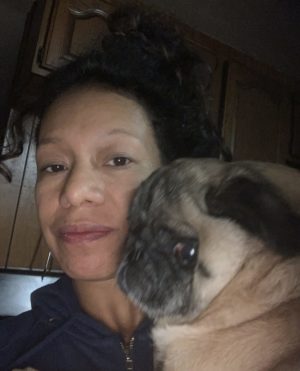 Janet Villanueva-Williams (Vice-Chair)
Janet is a life-long Rhode Islander who thrives in a collaborative work environment. Her goal in life is to expend positive energy onto others and to make a difference so our friends and neighbors have a chance to have a great life. She is committed to her work as a city high school principal and is always eager to learn. Janet is grateful for all experiences and wants to do whatever she can to help Providence be safe, strong, and healthy.
Janet is currently in her 12th year as principal of a local high school called The Met. At The Met, Janet has worked with disenfranchised youth and families and is skilled with establishing great working relationships. She has championed her school community of learners and leaders to obtain incredible opportunities in and out of school.
She wants to be on the board to help the community be stronger, healthier, and loved. Food is essential and knowledge is power. Janet is most excited about marketing Urban Greens to the Latinx community, and helping Latinx families be more health conscious is her primary goal.
Janet currently lives on the Federal Hill and West End line. She has a pug named Sophie and a cat named Freddie. Along with her family, she enjoys taking many walks and runs throughout the neighborhood.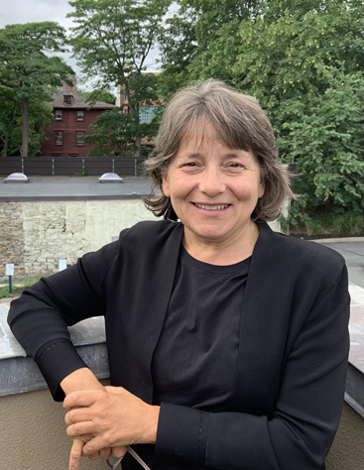 Marlene Yang
Marlene first became involved with Urban Greens four years ago when she and her family relocated to Providence from Wisconsin. At the time, she volunteered with the community outreach committee, processing new member applications, and other activities as Urban Green was establishing its new physical location. Marlene's first exposure to the local food movement began while in college in the 1980s – stocking shelves and harvesting vegetables at her local co-op. She has been supporting food-co-ops, CSAs, and local producers ever since. This early and deep involvement has formed the basis for her long-held belief that everyone deserves to
eat well and have equitable access to fresh, locally sourced food.
Beyond food co-ops, Marlene has donated her time and energy in every community that she has lived– serving on the boards of local arts centers, community arts associations, and a public school district. Since moving to Providence, she has mentored immigrant families through Dorcas and is co-chair of the Diversity, Equity, and Inclusion (DEI) committee at her local sports club. Through the combination of all these endeavors, she has come to realize that the adage "Think Global, Eat Local" is about way more than food—it is about autonomy, security, and public well-being.
She strongly believes that her 20-year corporate professional background in Finance, Project Management, Governance, Strategic Management, Accounting Degree, and MBA, combined with her personal passions can assist Urban Greens fulfill its Mission. Marlene wants to help ensure the long-term health of Urban Greens and the vitality of this community asset.