Member-Owner Meeting, May 2nd!
Please Join Us For Our Virtual Annual Member-Owner Meeting & Online Voting!
When: Monday, May 2nd
Time: 6:30-7:30 PM
Where: On Zoom. Register here to receive a link to the zoom meeting.
To Vote: Voting online with details below.
In the time since our last member-owner meeting, Urban Greens has remained committed to ensuring you have a safe and welcoming space to shop in your community, and to serving the community during these unprecedented times.
Like our last two annual meetings, this year's annual Member-Owner Meeting will take place virtually on zoom. We will provide a look back at the past year, give updates on where we're at, discuss what we have in store for the future, and make time for members to socialize with each other.
If you have any questions you'd like the board to address, please email your questions to ugcouncil@urbangreens.com in advance, so we can provide as complete an answer as possible during the meeting. We will also be taking questions during the Q&A portion of the meeting. We will also be able to take questions in some format during the Q&A portion of the meeting, but it will be much easier to respond to questions that are sent in advance, so we encourage you to send along any questions you may have now.
Member-owners, non-owners, and future owners are all welcome to attend! See you then!
Voting Initiatives:
At the core of a cooperative organization's democratic structure is the voting process, and the accountability to ownership that it brings. The Annual Member-Owner Meeting facilitates space for member-owners to exercise this right and responsibility. Through voting, owners help make important decisions that dictate the direction of the Co-op, and select candidates from among their fellow owners to represent them on the Co-op's governing board.
This year, we will be voting to elect new members to the board, and we are pleased to be conducting a competitive election for board seats: the board has nominated 8 candidates for consideration by the owners, to fill 7 open board seats. Competitive elections are a powerful way to ensure the board remains accountable to member-owners by putting the final decision in the owners' hands.
The board was extremely impressed with all 8 candidates nominated, which includes 2 current board members running for re-election, and 6 new candidates. Candidate names are listed below, followed by a statement and photo for each nominee. Each owner may vote for up to 7 candidates.
Candidates for the Board:
Leon Clark
Gian-Mikel Facenda (incumbent)
Jena Gaines (incumbent)
Lisa Hiwasaki
Elizabeth Malloy
Jane Mcintyre
Sam Saltz
Marlene Yang
Whether you are able to attend the meeting or not, please vote online in advance! This is critical to helping ensure that we have a quorum and can complete our election process.
To vote online, you will receive an email with a direct link for voting next week. Each email is linked to the member-owner's email to ensure secure voting. (One vote per member-ownership share.) Once you've received the email, just follow the instructions!
Candidate Statements
Leon Clark (he/him)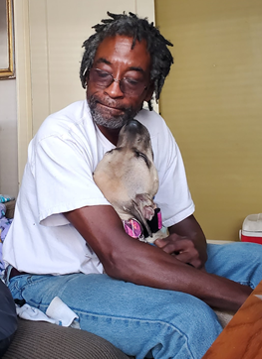 Leon has lived in the Reservoir triangle area of Providence for the last 3 years with his wife, Erin, and prior to that they lived in Elmwood for about 8 years. Leon has owned and operated a small landscaping business for the last ten years and has also worked in customer service. He is also very involved in the Providence community, and as an empty nester, is always looking to advocate for his community with his wife. Leon has been a 3x elected president of the Parent Advisory council for the Providence school board and is the Community Liaison for Faith Community Church in Providence. As someone who has always enjoyed helping others and building community, Leon also enjoys running a PRIDE in Providence group and cable access show called Urban Greens.
Leon has previously worked with General Manager John Santos to promote Urban Greens on his cable access show, and he loved attending Fish and Chip Fridays at the store. Leon is interested in serving on the board to promote the mission of Urban Greens and ensure his community has access to healthy foods and nutrition. He also wants to ensure people of color are represented in Urban Greens and that Urban Greens' mission serves people of color.
Gian-Mikel Facenda (he/him)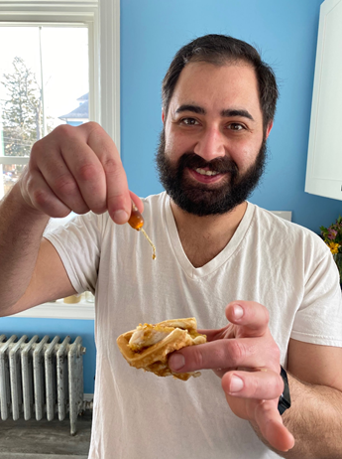 Gian is a lifelong Rhode Islander, who left (for a few years) to attend school in Philly for Food Marketing, but now has lived in the Rumford area of East Providence for the last 11 years with his Wife, Lauren + new son, Giacomo. When not in the kitchen working on his sourdough baking skills, he enjoys Kayaking, going to the beach, & Bike Rides along the East Bay Bike Path.
Gian has been on the board since June 2019, and currently serves as the Treasurer. He has spent the majority of his career in the food industry working for the largest distributor of Natural + Organic Foods in the US and recently switched over to a role in strategy consulting for the Food Industry. He specializes in Category Management, merchandising, and analytics & hopes to continue bringing those skills to the Urban Greens Board.
Gian wants to continue his time on the board to help ensure Urban Greens stays on its current growth trajectory & work to make Urban Greens a shining example of what a Food Co-op can & should be for the community they're part of.
Jena Gaines (she/her)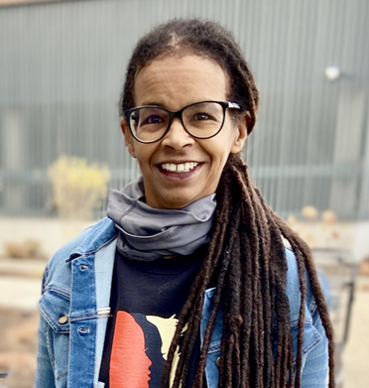 I am from Newport, Rhode Island and always considered it my home. I majored in anthropology at Mount Holyoke College and Bridgewater State College (now University) in Massachusetts, then completed a PhD in modern European history at the University of Virginia. After teaching at Mount Holyoke College and then at Western Michigan University I moved back to Rhode Island, and now live in Providence's West End. I now work as an academic editor and proofreader, mostly for international graduate students and faculty.
When I moved to Providence, I soon started volunteering with Fertile Underground Grocery, where I became interested in community-supported agriculture, community gardening and the need for healthy and affordable food in Providence. I volunteered with Urban Greens for several years before joining the board and serving a term as vice chair.
I am most interested in governance issues, the role of the board in supporting the store, and in raising the profile of Urban Greens and co-ops generally. In addition to taking care of three special needs pets, I volunteer with Waterfire and the Green Energy Consumers Alliance.
Lisa Hiwasaki (she/her)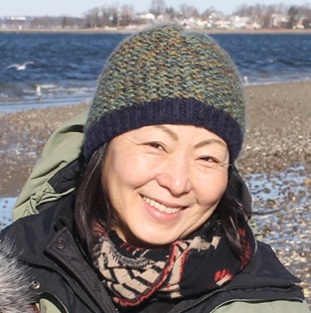 My two children and I moved to Providence a little over a year ago, after living in Ottawa (Canada), Hanoi (Viet Nam), Jakarta (Indonesia), and Paris (France). Before taking on my job teaching sustainable development at URI, I worked for various research and international organizations working on challenges related to environment and development. I was involved with research on sustainable food systems in Viet Nam, where I experienced the importance food sovereignty in addition to food security. I was thus really excited to find Urban Greens in Providence!
I'm hoping that my project management and fund-raising skills, and experience conducting research with vulnerable communities around the world, will be useful to the Board and help Urban Greens' mission to offer sustainable, affordable, culturally-relevant and locally-sourced food. I'm most interested in engaging with the Board and members to increase community outreach and promote justice, equity, diversity & inclusion in both staff and sourcing.
My kids and I speak English, French, and Japanese (albeit there are differences in fluency!) and love exploring nature trails and ice cream shops in RI and MA. I make my own kombucha and apple cider, and grow my own sprouts & herbs (with varying levels of success). Integrity and respect for diversity are key values which I promote through my research, teaching and in my personal life.
Elizabeth Malloy (she/her)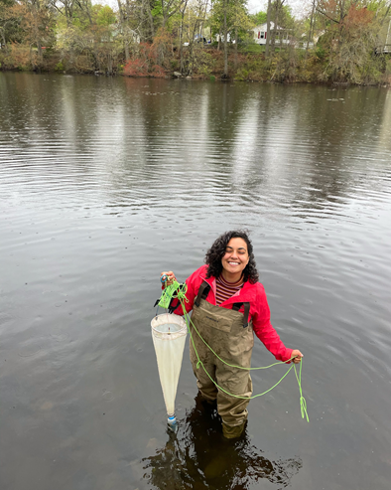 Elizabeth is a resident of Elmwood and has lived in the surrounding neighborhoods of Urban Greens for the past five years. She is currently working as a Program Coordinator with Movement Education Outdoors, overseeing the West End Raices youth garden, and as the Coordinator of the Young Farmer Network of Southeastern New England. She is also a steering committee member of the PVD tree plans.
Elizabeth has been lucky enough to hold a variety of experiences working within community-focused environmental and food justice realms through sharing stories, building systems, and creating programming. She is excited to further serve the community through this opportunity to join the Urban Greens board.
Elizabeth has a cat named Rutabaga who will only respond to "Handsome Boy" if called, and she goes absolutely bonkers for frogs.
Jane Mcintyre (She/Hers)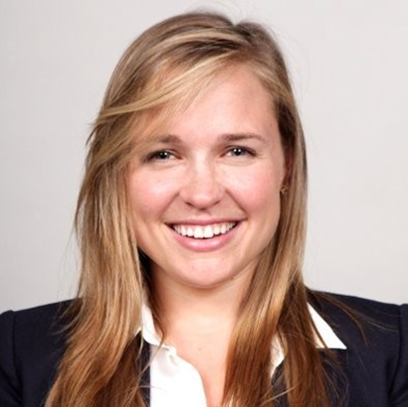 Jane wants to be a member of the co-op board because she thinks we all deserve good, affordable food! Along with being a staunch lover of cooperative structures, Jane believes that food injustice is a root cause of many challenges we face here in Rhode Island (and everywhere else!). She loves that Urban Greens actively tries to address these challenges – and wants to support that mission any way she can.
As a small business manager with 4+ years prior experience in finance operations & nonprofit lending, she is excited about the opportunity to help support the co-op and her community by putting her business skills to work. Jane runs a small family textile business with her father. She has a BA in Gender Studies & Sociology from Oberlin College (2012) and an MBA in Finance from Northeastern University, D'Amore McKim School of Business (2017).
In her free time she enjoys spending time with friends & family and exploring Providence on foot. She lives in the West End with her partner, Oliver, and their 10 month old, Clyde.
Sam Saltz (he/him)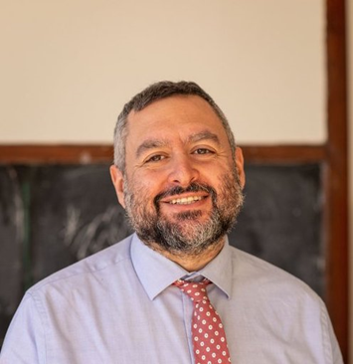 Sam moved from New York City to Providence seven years ago and immediately fell in love with the West End. So much so that he convinced his now-wife, Jenny, and parents, Carole and Steve, to leave NYC and join him here. In addition to making his home here, Sam also teaches middle school in the West End neighborhood and finds a great deal of meaning in rooting his work within the context of his chosen community.
Before his recent return to teaching, Sam worked for the Providence Public School District and the State of Rhode Island Departments of Education and Human Services where his work focused primarily on system improvement, community-based decision-making, community-led budgeting, program design and evaluation, and grant management and oversight. He looks forward to leveraging his passion for cooperative ownership and governance and background in project management, community empowerment, and board relations in service of Urban Green's member-owners and shoppers.
Prior to his work in education, Sam was the director of marketing for a successful start-up, a field organizer for a successful presidential campaign, and an Emmy-nominated comedy writer. He still thinks he's pretty funny.
Marlene Yang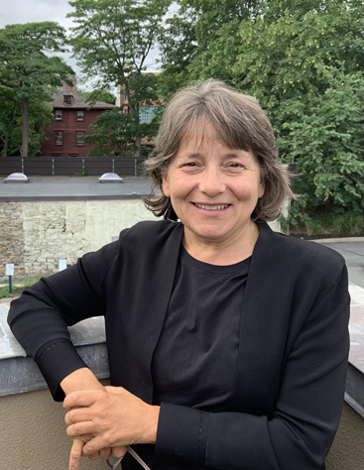 Marlene first became involved with Urban Greens four years ago when she and her family relocated to Providence from Wisconsin. At the time, she volunteered with the community outreach committee, processing new member applications, and other activities as Urban Green was establishing its new physical location. Marlene's first exposure to the local food movement began while in college in the 1980s – stocking shelves and harvesting vegetables at her local co-op. She has been supporting food-co-ops, CSAs, and local producers ever since. This early and deep involvement has formed the basis for her long-held belief that everyone deserves to eat well and have equitable access to fresh, locally sourced food.
Beyond food co-ops, Marlene has donated her time and energy in every community that she has lived– serving on the boards of local arts centers, community arts associations, and a public school district. Since moving to Providence, she has mentored immigrant families through Dorcas and is co-chair of the Diversity, Equity, and Inclusion (DEI) committee at her local sports club. Through the combination of all these endeavors, she has come to realize that the adage "Think Global, Eat Local" is about way more than food—it is about autonomy, security, and public well-being.
She strongly believes that her 20-year corporate professional background in Finance, Project Management, Governance, Strategic Management, Accounting Degree, and MBA, combined with her personal passions can assist Urban Greens fulfill its Mission. Marlene wants to help ensure the long-term health of Urban Greens and the vitality of this community asset.
Recent Posts
Barbra
Dear Co-op Community, I wanted to take a moment here in this season of gratitude and togetherness to thank the Urban Greens community for welcoming me and my family. Urban Greens is a co-op [...]
Barbra
Urban Greens Announces New General Manager! Please join us in welcoming Rob Drake. Rob brings 11 years of co-op experience, exhibiting a versatile skill set spanning Marketing, Purchasing, Pricing, Store Operations, and General Management. His [...]
Barbra
We have so much to share... Here's a preview of the contents below: -We're having an ice cream social on Oct 21 to CELEBRATE Fairtrade Month and our new MURAL! -Sign [...]