Starting on Sunday, January 2, 2022, our hours daily will be 8 am-8 pm.
In addition to revised hours, there are a few other things you should know:
All members save double coupons in 2022. This is the biggest best member-owner money-saver around.
Standard member-owners will now save 5% once per month at your discretion. Pro-tip: use it for your biggest shop!
Food-For-All member-owner savings remain at 10%.
Composting is available to our members at no cost. Limit to 3 gallons of food scraps per week.
To help us sustain all savings programs, please, everyone, continue to round up at the register. Your spare change really is the simplest community service contribution money can buy.
We're trying something new with branded merchandise. Click here to shop.
Thank you for shopping and supporting co-op efforts and keeping it local as we navigate safely into the year ahead.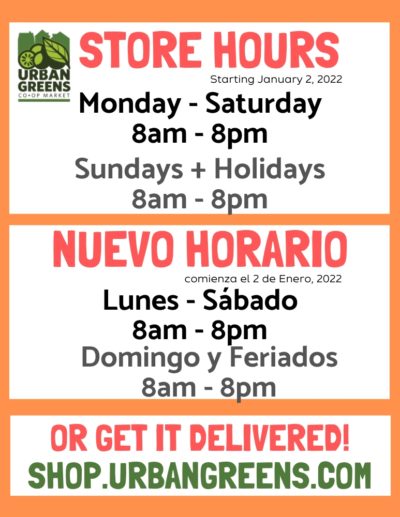 Recent Posts
Barbra
Food Certifications are labels or logos that provide consumers with information about specific characteristics or qualities of a food product. These certifications help consumers make informed choices based on their dietary preferences, ethical considerations, or [...]
Corey Auger
It's time for the Annual Meeting. Save the Date for Our Virtual Annual Member-Owner Meeting & Board Election! When: Wednesday, August 9th Time: 6:30-7:30 PM Where: On Zoom. Register here to receive a link to [...]
Corey Auger
Are you interested in getting involved? Urban Greens is seeking new board candidates to nominate for election at this year's annual owner meeting on August 9th from 6:30-7:30pm! Joining the board is a great way [...]