Too much to read on our newsletters?
Here's a brief outline for you:
June 12 – Urban Scoops
Starting today, Urban Scoops is open for business. It's our own in-house ice cream shoppe with a Buck a Scoop dairy ice creams. We'll also offer cold brew or kombucha floats, non-dairy options, and a selection of quick and easy grab-and-go items so you can head to the office, or better, beach (but not advised in today's rain!)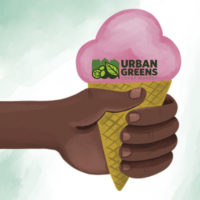 June 19 – Juneteenth
Saturday is Juneteenth. We hope you'll join us for a 12-4 cookout of chicken, veggies, cornbread and more. Just $10 for a full plate! Celebrate freedom for all our Black brothers and sisters.
June 20 – Father's Day
Celebrate all the dads out there on June 20th. We have everything you need for your dad to get to grillin', from local meats and veggies, to sparkling sodas, and don't forget sunscreen, because even he needs UV protection.
June 25 – African Alliance of RI
Friday June 25, African Alliance of RI will be at the store with a plant and veggie sale from 4-7pm.
June 27 – 2 Year Anniversary & Pig Roast
Sunday June 27th is our 2 year anniversary party!! Start off with a Pig Roast 12-4pm ($15.99 full plate) Smokey tender pork is the main dish with classic sides, but there will be several other options from the kitchen offered outside, a la carte. Listen to music and meet outside vendors for your shopping pleasure! Be an active member of our community!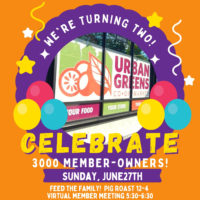 Virtual Annual Member-owner Meeting
Once you've got your fill of food (or packed it to bring home), log-in to our Virtual Annual Member-owner Meeting. It's scheduled to start at 5:30 and goes for an hour. Learn about how we're doing and what's coming up. Meet the board, and if you're a member already, don't forget to vote.  If you didn't get the newsletter, click here, or email the board anytime at UGCouncil@urbangreens dot com
July 1 – Cheese Share
Don't forget, the first of each month, we open up the Urban Greens Cheese Share. It's a great way  to dip your taste buds into new cheeses. Take inspiration to making cheese plates to entertain your friends and family each month. Find the pre-order details and form here.  Each box is hand packed with 3-4 cheeses not yet offered in store. We'll ask you to fill out our comment card each month to tell us what you want to see us bring in to expand our selection!
You'll notice we secure our boxes with bespoke packaging tape​. It's plastic free and can be curbside recycled with your cardboard! Check out Sticker Mule. We love working with this great company!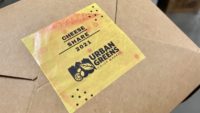 All the Fridays
And every Friday we make fish and chips and all sort of other goodies! Find the menu and order form here.
TTFN,
UGCM
Recent Posts
Corey Auger
Are you interested in getting involved? Urban Greens is seeking new board candidates to nominate for election at this year's annual owner meeting on August 9th from 6:30-7:30pm! Joining the board is a great way [...]
Philip Trevvett
Member-Owner Meeting, May 2nd! Please Join Us For Our Virtual Annual Member-Owner Meeting & Online Voting!   When: Monday, May 2nd Time: 6:30-7:30 PM Where: On Zoom. Register here to receive a link to the [...]
Barbra
Are you interested in getting involved? Urban Greens is seeking new board candidates to nominate for election at this year's annual owner meeting (virtual details tbd)! Joining the board is a great way to be [...]