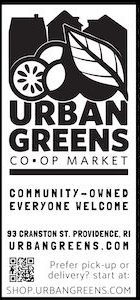 Hopefully, you're already reading along with our weekly newsletters, so you might know some of this information. Well, read this anyway, there's newer news included.
Our Online store enables safe and easy pick-up and delivery services.

We are ever-improving the selection you find on the site to match what we have in stock. Please call the store if you are looking for a specific item that you don't see on the site. If we have it, we can add it for you.
Urban Greens apps are available:
We are still working through red tape to get SNAP approved for online sales. Stay tuned. It still might be a while…

Big news! 1-hour delivery

Starting June 1, we will offer 1-hour delivery!!
10am-8pm Monday thru Friday.

Pop-up shopsat the co-op.

Meet local vender and crafters tabling outside. Healers too!

More really big news! Your co-op is now WIC approved!

Help us spread the word. It was a long road and a lot of work to get here.
For more information on WIC RI eligibility, click here.

New Member Perk: Giveaways! Membership automatically enters you into bi-monthly giveaways! Our buyer will draw members at random and offer up prizes! You can win a thing, and get coupons, which, as you know, are worth twice the value for members!

Be sure to update us with your valid phone number and email. We won't be sliding into your DMs.
Prizes are pick-up only.
We request that you pick up within 2 weeks of a win due to our limited storage space.

Monthly Cheese Shares makes a great hostess gift or easy party appetizer. The cheese share program was born out of the desire to bring in more unusual selections but at a lower financial risk to the co-op.

The more adventurous cheese-heads we get to pre-order, the more fun we can have!
After it's all done, you have the opportunity to rate what you ate using the link or QR code that comes with each box.
The most popular cheeses will be brought into our cheese department, as long as we can keep getting it.
Boxes are available at a lower price when you pre-order through the web-store (opt for pick up or delivery).
Just a few bucks more for in-store purchases. When there's a surplus, you'll find it in our Specialty Cheese Dept.